Caring For A Hot Tub – Tips & Tricks
It's important to take good care of your new hot tub.  Caring for a hot tub is essential to ensure it remains clean, safe, and enjoyable for a long time.
Here are some suggestions for caring for a hot tub.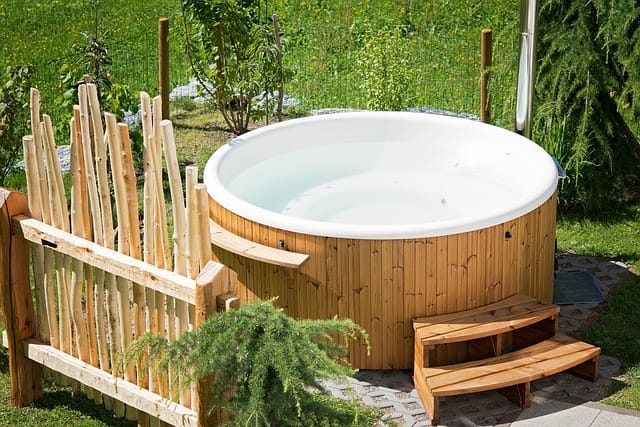 Regular cleaning. Clean the hot tub regularly to prevent the buildup of dirt, debris, and bacteria. Drain and refill the water according to the manufacturer's guidelines (usually every 3-4 months) or more frequently if the water becomes cloudy or odorous. Caring for a hot tub by keeping it clean should be a top priority.
Balance water chemistry. Balancing a hot tub's chemistry can be tricky. Regularly test the water and maintain proper chemical balance, including pH levels, alkalinity, and sanitizer (chlorine or bromine). Follow the manufacturer's guidelines for specific chemical dosages.
Shock treatment. This is one thing that most hot tub owners don't know enough about. Caring for a hot tub by performing shock treatments as needed to oxidize and eliminate contaminants that regular sanitizers may not be able to handle. This helps keep the water clear and sanitary.
Filtration maintenance. Clean or replace the hot tub's filter regularly, following the manufacturer's instructions. A clean filter ensures proper water circulation and helps keep the water clean.
Skim and remove debris. Use a skimmer net to remove leaves, insects, and other debris from the water's surface regularly.
Cover when not in use. Keep the hot tub covered when not in use to prevent debris from falling into the water and to retain heat, which can save on energy costs.
Check water level. Monitor the water level in the hot tub to ensure it remains above the skimmer level. Low water levels can damage the pump and heating element.
Inspect equipment. Regularly inspect the hot tub's equipment, such as pumps, jets, and heaters, for signs of wear or malfunction. Address any issues promptly to avoid larger problems.
Lubricate o-rings. Apply a silicone-based lubricant to o-rings and gaskets annually to keep them in good condition and prevent leaks.
Prevent soap and oil buildup. First off, you really shouldn't be bathing in your hot tub! Encourage bathers to rinse off any soap, lotions, or oils before entering the hot tub to prevent buildup and maintain water clarity.
Drain and winterize. If you live in a region with freezing temperatures and you won't be using your hot tub in the winter, drain and winterize your hot tub properly to avoid damage from frozen water.
Educate users. Make sure all users are aware of hot tub rules and guidelines, such as showering before use, not using glass containers, and not adding any unauthorized chemicals.
Caring For A Hot Tub Is Not Difficult
By following these suggestions, you can keep your hot tub clean, safe, and enjoyable for a long time, and also extend its lifespan. Always refer to the manufacturer's guidelines and instructions for specific care and maintenance requirements for your particular hot tub model.
NEED AN ELECTRICIAN IN COLORADO SPRINGS?
NEED AN ELECTRICIAN IN COLORADO SPRINGS?