Quality Home Lighting Electrician – Lighting Upgrades!
One of the things that a lot of people don't realize is the importance of good lighting in a home. The lighting in a room can completely change how you feel and your overall mood.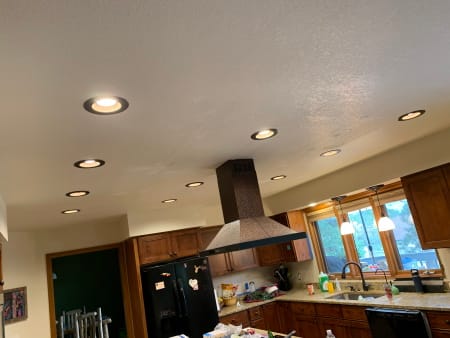 It's true, the lighting in a room actually sets the mood. When you have a softly lit room with candles or a lamp, this can create a romantic mood.
On the other hand, a dining room that has lots of bright lights can create a celebratory or festive mood. No matter what type of mood you want to create, there are lots of lighting solutions that can help.
Colorado Springs Lighting Electrician Can Help
Jon Fitzgerald, an experienced Colorado Springs lighting upgrade electrician and will be able  install the right types of lighting and controls for your home. We also do lighting for offices.
Many Lighting Upgrade Options
Thankfully, there are lots of affordable and innovative LED lighting that are available on the market. These can truly upgrade and enhance your lighting without breaking the bank, while giving your home a very unique and pleasing lighting scheme.
When you upgrade your home's lighting using energy efficient solutions, this will go a long way in lowering your electricity bill as well as your carbon footprint.
Lighting Upgrade By Room
The great thing about lighting upgrades is that you have the ability to choose how you want certain areas in your home to be lit. You can even upgrade the lighting in your kitchen so that it becomes much easier and safer to cook. You can use recessed lighting and even LED lighting fixtures. The great thing about these is that you won't have to replace any light bulbs.
Now is definitely the time for you to make a change in your home. Be sure to talk to Jon from SOCO Electric located in Colorado Springs since he has the right knowledge and know how to upgrade your home's lighting.
NEED AN ELECTRICIAN IN COLORADO SPRINGS?