Outdoor Electrical Outlets Are A Great Home Upgrade!
Have you ever thought of holding an outdoor party with great music and cold drinks in your backyard but the thought of having extension cords littering the ground puts you off? Well, adding outdoor electrical outlets around your home is a practical consideration that you should have done.
They provide you with a source of electrical power in the form of GFCI protected outlets where you can plug in pretty much any device.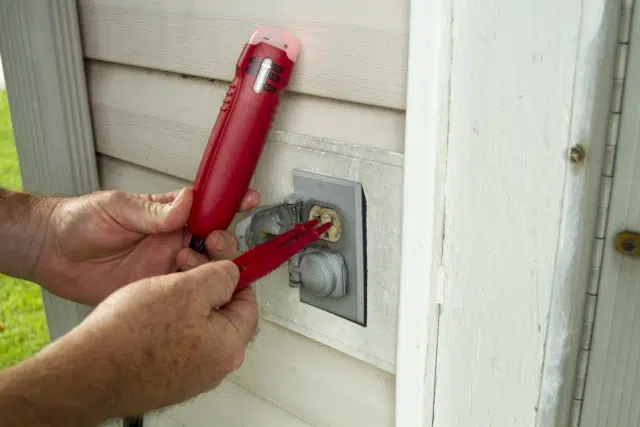 Why You Should Install Outdoor Electrical Outlets
Outdoor outlets are convenient in that they allow you to use electrical appliances and gadgets without the fear of tripping over cables or having to pass extension cables through your doorway. You can easily barbecue for your guests and have children and pets playing in the same yard without fear for their safety.
Additionally, outdoor outlets allow you to perform yard maintenance more easily, easily powering your electric lawnmower and other lawn tools. They are made in a way that they present zero fire hazards to the user. You are able to light up your garden more comfortably regardless of the weather conditions.
Outdoor outlets also help you save time that you would otherwise be running around seeking how to connect your gadgets to an electrical power source.
Safety Tips When Using Outdoor Electrical Outlets
Outdoor outlets are generally safe to use if they are properly installed. You and your electrician will strategically plan where you need to install the outdoor electrical outlets.
Avoid installing then near water sources like dispensers, swimming pools and streams.
Install outdoor outlets near where all the action shall be. For example, if you plan to use and entertainment unit like a sound system, figure out where plan to have it and install the outlet nearby.
Use a spring loaded cover to keep rain water and other forms of dirt from clogging your outdoor outlets.
Use Ground Fault Circuit Interrupts (GFCI) that senses electrical current surges to stop power supply to your outdoor electrical outlets when need be.
Use a licensed professional to install your outdoor outlets.
You can do a lot with outdoor eoutlets so long as they are safely installed by an experienced Colorado Springs electrician.
At SOCO Electric in Colorado Springs we have professional and certified electricians who can safely add outdoor around your home at an affordable price.
We also repair and replace existing outlets. In case of an electrical problem that needs urgent attention, give us a call! We're ready to help with any home electrical issue pr project you can imagine.
NEED AN ELECTRICIAN IN COLORADO SPRINGS?