Hot Tub Electrical Installation
Need A Hot Tub Electrical Installation?
So, did you recently purchase a new hot tub and need to have the wiring installed by an electrician?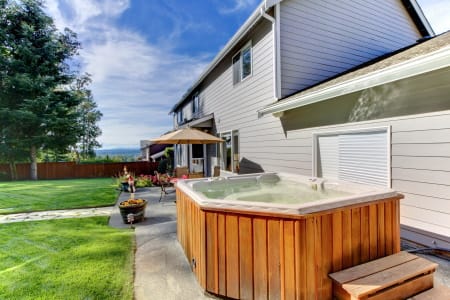 Adding a sauna or hot tub to your house is an excellent way to increase your property's enjoyment and value. Your new addition should be a place to de-stress and relax in, and not cause you constant frustrations and headaches. That is why it is very important to find the best sauna and hot tub electrical professional that is available.
Whether your brand new hot tub is located on the inside or outside of your house, give SOCO Electric a call to ensure that everything is installed and wired correctly to prevent any security, electrical, and safety issues from arising.
If you need to have spa, sauna, or hot tub wiring installed by an electrician, SOCO Electric is here to help you. Our experienced electricians are able to deal with any problems that may occur and ensure that the wiring is installed properly and safely.
We offer the following sauna and hot tub services:
Electrical Installation
Wiring maintenance
Wiring upgrades
Installation and repair of safety electrical outlets
Electrical troubleshooting
An amateur electric installation can not only ruin your new expensive luxury spa – your life could actually be endangered! Hire our skilled and licensed hot tub wiring electrical Colorado Springs service today to ensure the work is done properly and your safety.
Installing a sauna or hot tub will require various installation, repair, and electrical troubleshooting of wiring maintenance, wiring upgrades, and safety electrical outlets to ensure you are able to completely enjoy your brand new home spa.
After all, you definitely don't want to be right in the middle of enjoying a steam or a soak and be without power suddenly because a breaker was thrown by your new home spa.
NEED AN ELECTRICIAN IN COLORADO SPRINGS?
Contact Us for a Free Consultation Now!