Kitchen Remodel Electrician
Get The Best Kitchen Remodel  Electrician!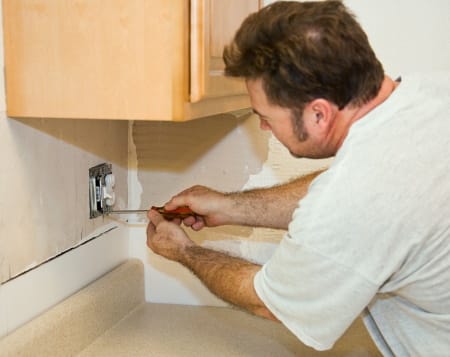 Remodeling your kitchen is one of the most popular and useful updates you can make to your home. Between the a great new look and the big increase in home value, an upgraded kitchen can really make your life much more enjoyable.
Typically when homeowners consider a new kitchen, dramatically upgraded lighting and adding additional outlets are among the most popular and practical parts of a kitchen remodel.
Lighting & Electrical Outlets
New countertops and a new appliance or two looks great and may be necessary, but don't forget the basics. Poorly designed lighting in a kitchen causes all kinds of problems. The same can be said for electrical outlets and GFCIs. Adequate lighting in a kitchen highlights those upgrades and adds to the functionality of your space.
The kitchen is one room in your home that needs extra lighting and plenty of electrical outlets. You do not want a disappointing dream kitchen.
Hire An Experienced Kitchen Remodel Electrician
Naturally, any electrical work needs to be done by a licensed and experienced Colorado Springs electrician. You want all lighting fixtures safely installed and all wires secured properly. An experienced kitchen remodel electrician can also help you with product selection. Have you looked at track lighting? What about recessed lights?
Lighting placement is also key, as is the placement of electrical outlets. If your kitchen ends up requiring additional electrical outlets, that is no problem for an experienced electrician.
NEED AN ELECTRICIAN IN COLORADO SPRINGS?