Signs Your Home Needs an Electrical Panel Upgrade
​When it comes to home maintenance and upkeep, most homeowners focus their energy on the things that provide immediate visual improvement.
Tasks like painting the exterior, cleaning up the yard, and mowing the lawn are tasks that really can make a home look great, so it makes sense to focus your efforts there. However, there's another area of home maintenance that most homeowners overlook – electrical panel upgrades.
This blog post will discuss what are the signs you should look for to know when it's time for an electrical panel upgrade.
What is an Electrical Panel?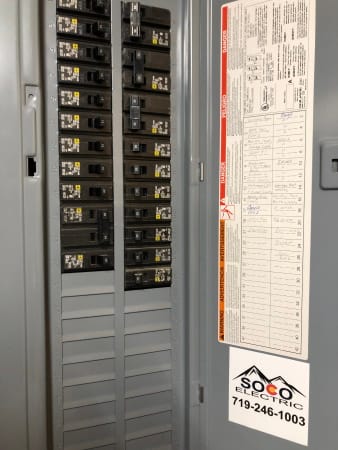 An electrical panel (also known as an electrical breaker panel or service panel) is a vertical metal box that houses the fuses, circuit breakers, and other similar equipment for your entire home's electrical system.
Signs Your Home Needs an Electrical Panel Upgrade
When a circuit breaker is tripped, the power to the circuit is cut off and the device that's been tripped is no longer working. Often, there are multiple electrical devices that are supported by a single circuit, especially in older homes with a smaller electrical panel supply.
The lower electrical supply to a home or business is often constrained by the physical size of the electrical panel, with a lesser number of breakers and circuits supported.
Why Would A Circuit Breaker (Or A Fuse) Trip, Or Fail?
In an older home that was built when electrical appliances were few, the lower-rated electrical panel would have worked just fine for the times. Many older homes had gas stoves, air conditioning was a rare luxury and no one had a hot tub or an electric car charger.
Nowadays, the much higher demands for electrical power due to the explosion of electrical devices puts a strain on lower-power electrical panels, making an upgrade almost mandatory.
In short, demanding too much power from older electrical panels and circuit breakers will activate the breaker, causing that circuit to lose power. The overtaxing of electrical circuits is a great inconvenience for the homeowner, and could also be a safety concern as well.
Another sign that your electrical panel needs upgrading is if your home's electrical system has noticeable problems or is causing issues like old breakers wearing out and not being able to buy replacements or just a lack of power for your upgraded electrical toys and appliances.
Why Should You Upgrade Your Electrical Panel?
The main reason to consider an electrical panel upgrade is the limited amount of power that you currently have, vs. the power that you need.
Here's a list of just a few of the electrical appliances that people want these days, but may net be able to power with an older power panel;
A charging station for an electrical vehicle
Central Air Conditioning upgrade for your home
An electric stove upgrade
Room additions
Basement Renovation
Garage Addition
Electric Clothes Dryer
Hot Tub
An electrical panel upgrade can improve the reliability of your entire home's electrical system. In older homes, electrical panels are often connected to older electrical components that may need to be replaced. This can often be a more reliable and cost-effective option than replacing the entire electrical system.
Which Type of Electrical Panel Upgrade is Right for You?
There are two main types of electrical panel upgrades.
The first is an upgrade from a single-outlet to a multi-outlet panel. This will allow you to connect multiple devices to your electrical system simultaneously.
A single-outlet panel can hold up to two circuits. This means that during installation, one circuit must be removed. The other is left untouched. A multi-outlet panel, however, can be used to power multiple devices simultaneously. This means that you can have a single circuit that provides power to two devices simultaneously and a second circuit that can power three devices simultaneously.
Re-capping your wires is another option that may be right for you. This is when the wires on the old panel are replaced with new ones and the wiring is re-certified. It's important to note that re-capping your wires is only recommended when your existing wires are in good shape and the cost of a new electrical panel upgrade is too expensive.
This option is also recommended if the electrical panel upgrade is not necessary.
Final Words: Is it Time for an Electrical Panel Upgrade in your Home?
While it can be tempting to skip electrical panel upgrade work, there are many reasons you should consider upgrading your panel. First, an upgrade can allow you to enjoy more of the modern electrical appliances available today. Second, it's a reliable investment, especially if you have a really old electrical panel that you are having difficulty finding replacement components.
There are many signs that your electrical panel is outdated and in need of upgrades. If your panel is old, there may be a noticeable change in your electricity usage. If your home's power usage suddenly spikes, this could be a sign that your electrical panel needs upgrades.
In the end, it's important to remember that electrical panel upgrades can be a cost-effective and reliable investment in your home's electrical system.
By upgrading your panel, you can improve the reliability of your electrical system and lower your electricity bill at the same time.
NEED AN ELECTRICIAN IN COLORADO SPRINGS?
NEED AN ELECTRICIAN IN COLORADO SPRINGS?